Introducing the Olevs Elite Watch, a stunning chronograph watch that seamlessly blends style and functionality. Inspired by the timeless elegance of traditional watchmaking, this timepiece is designed to keep pace with modern life. With its precise timekeeping and impressive array of features, this watch is perfect for any occasion. Whether you're at work, at play, or somewhere in between, the Olevs Elite Watch is the ultimate accessory.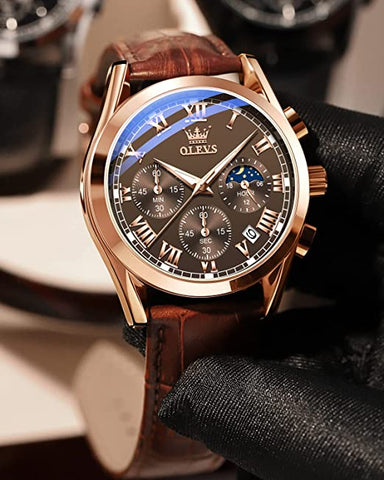 Crafted from high-quality materials and built to last, this watch is a testament to Olevs' commitment to excellence. Its stainless steel case is rugged and durable, while its leather band is comfortable and stylish. And with a water resistance of up to 30 meters, you can wear it confidently in almost any setting.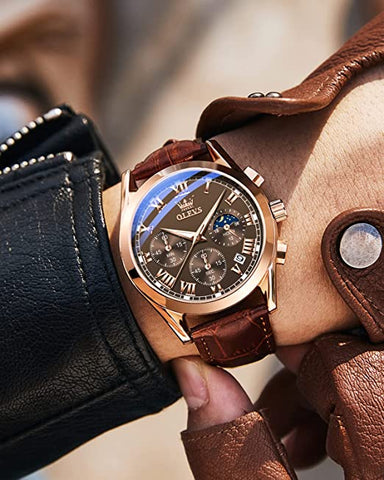 Features:
Model Year: 2023
Item Shape: Round
Display Type: Analog
Material: Stainless Steel
Diameter: 42 millimeters
Thickness: 12 millimeters
Band Material: Leather
Band size: Men's Standard
Band Color: Brown
Dial color: Brown
Bezel material: Stainless Steel
Bezel function: Calendar
Calendar: Date
Special features: Chronograph
Water resistant
Country of Origin: Japan.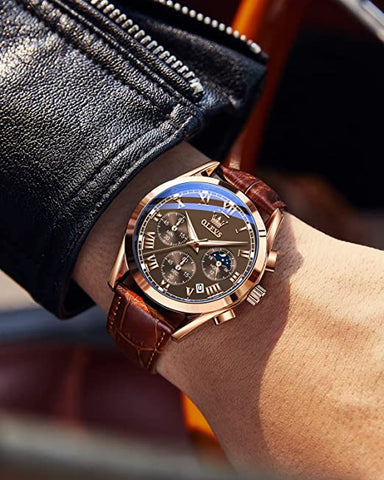 So why settle for an ordinary watch when you can have the Olevs Elite Watch? Whether you're looking for a new everyday watch or a special gift for someone you love, this timepiece is sure to impress.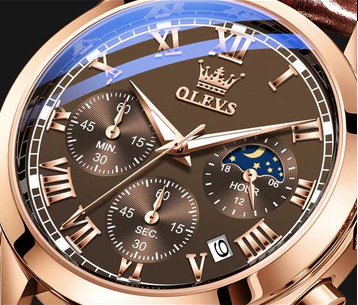 The processing of your order will take between 2 to 5 business days, and once the order is processed, the shipping time will take approximately 4 to 7 business days.
No need to worry about taxes or import fees for your watch purchase. We've got you covered worldwide. Our commitment to professionalism means transparency in pricing and hassle-free delivery. Contact us with any questions or concerns.