Deep Cleaning - Makeup Brush Cleaner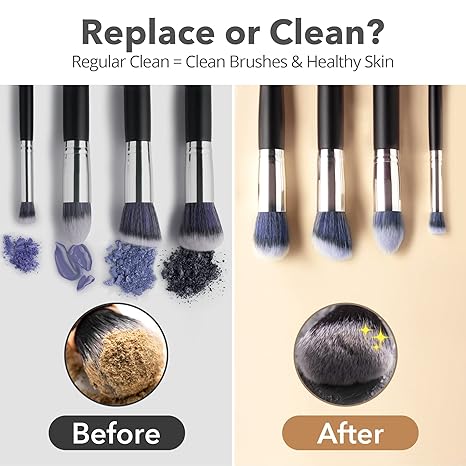 Elevate your beauty and skin health with our makeup brush cleaner!
Using our makeup brush cleaner is great for your health and skin. 🌟 It keeps your brushes free from harmful bacteria that can cause breakouts and skin irritations.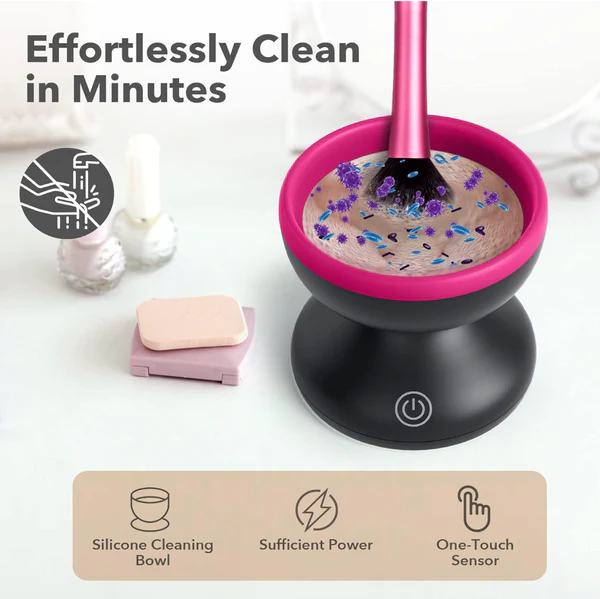 Leave the dirt behind and let the glamour steal the show!
💄 Glitz and Glam Galore: Your makeup is about to get a makeover of its own! Clean brushes mean flawless product application, so your cosmetics can cha-cha-cha together for a picture-perfect finish! 💃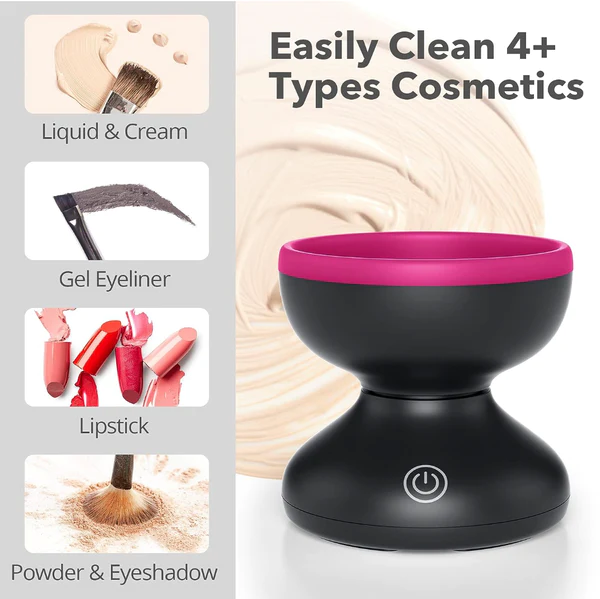 Key Benefits
With a simple touch, watch your brushes and sponges transform from dull to dazzling in mere seconds. Say goodbye to tedious cleaning routines!
Smart Investment
Extend the life of your beloved brushes and save money on replacements. Our cleaner is designed to preserve the quality and softness of your makeup tools.
Eco-Friendly
Join the movement towards sustainable beauty practices. By using our cleaner, you reduce waste from disposable applicators and contribute to a greener planet.
Versatile & Travel-Ready
Suitable for all brush types, it's your ideal travel companion. Enjoy professional-level results wherever you go.
Gentle Care
Our cleaner is gentle on your brushes, ensuring they remain soft and maintain their shape.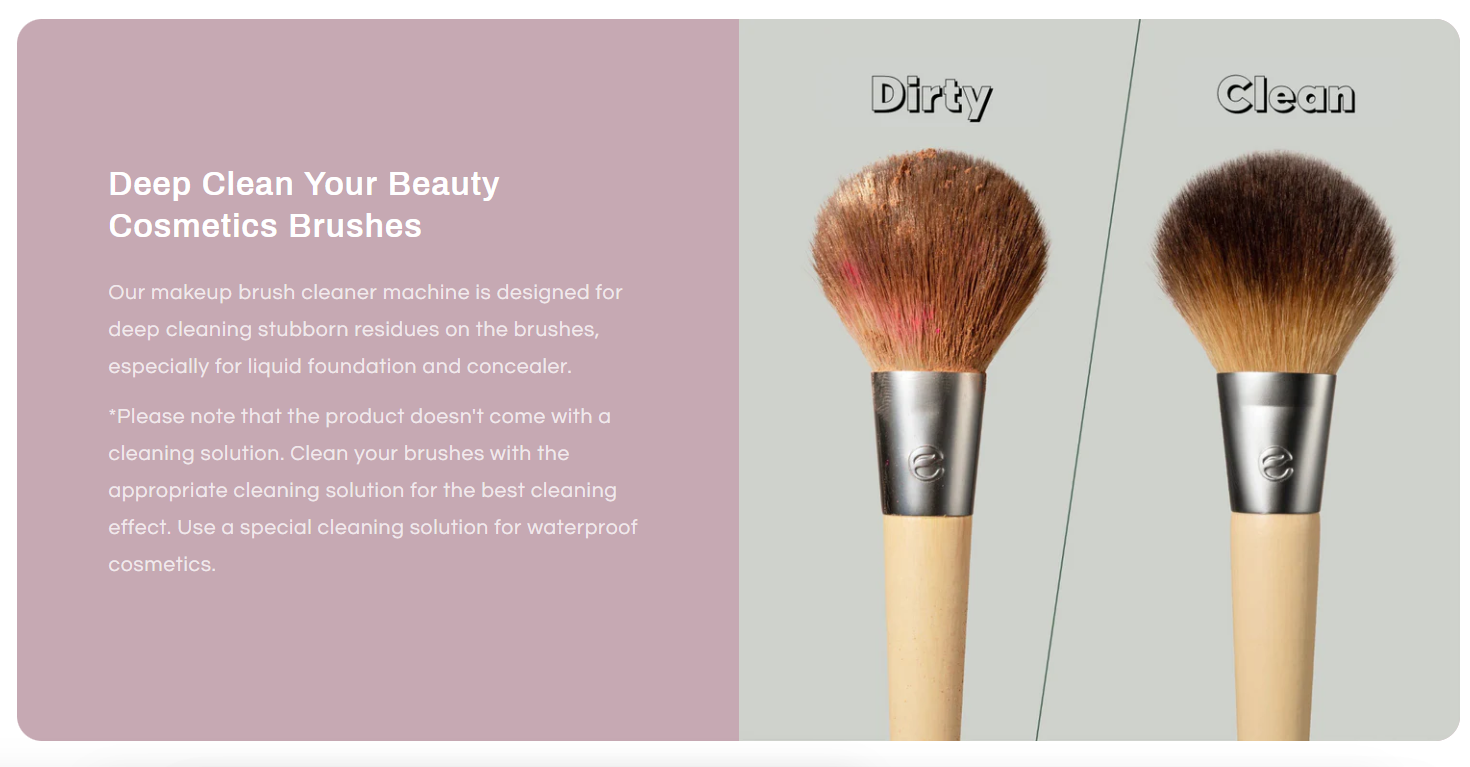 Simplify Your Makeup Brush Cleaning: Achieve Clean and Fresh Brushes in Just Three Easy Steps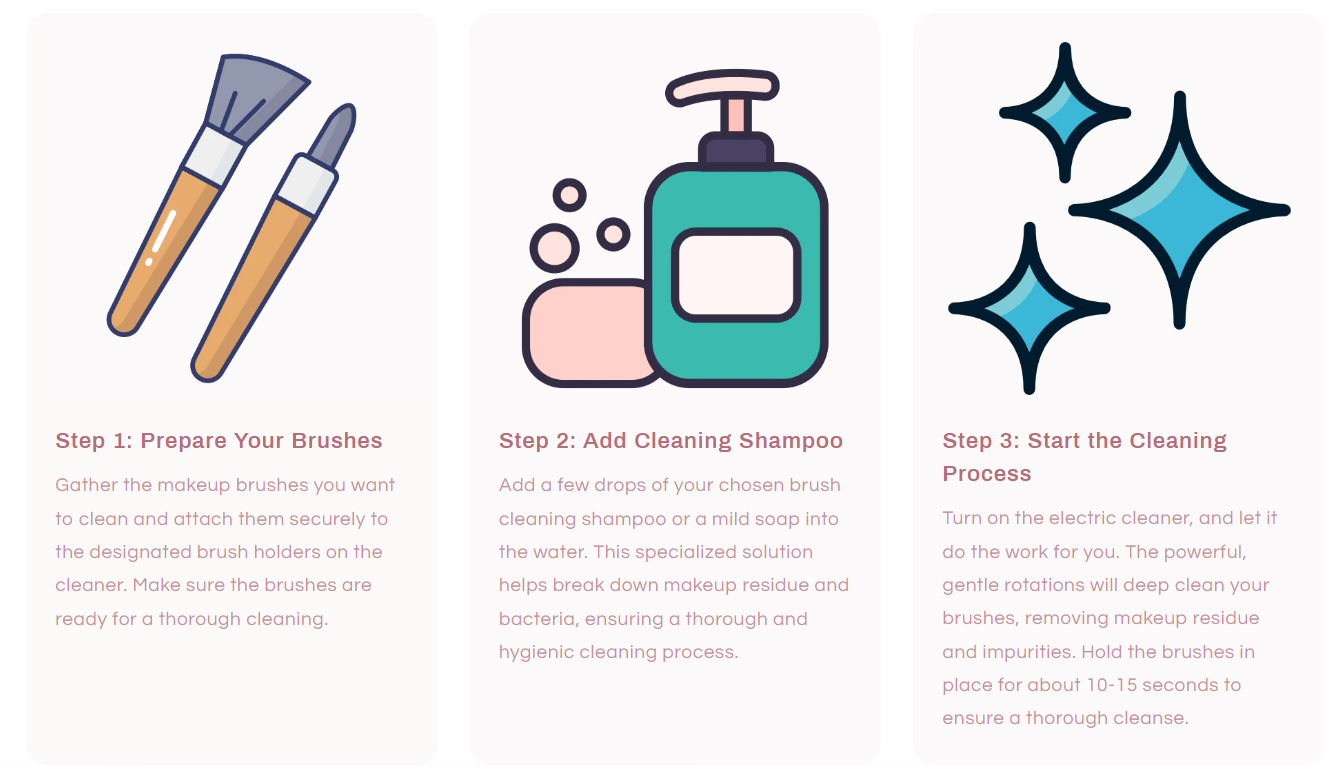 Here's A Few Questions & Answers About Our Cleaner

What is the recommended frequency for cleaning makeup brushes with a cleaner?
We recommend cleaning your makeup brushes with a cleaner at least once a week if you use them regularly. For professional makeup artists or heavy makeup users, cleaning after each use or every other day is ideal to maintain brush hygiene.
Is it safe to use an electric brush cleaner on all types of makeup brushes?
Yes, our electric brush cleaner is designed to be safe for use on a wide variety of makeup brush types, including synthetic and natural bristles. However, it's always a good practice to check your brush manufacturer's guidelines to ensure compatibility.
How long does it typically take to clean a set of makeup brushes with this electric cleaner?
The cleaning time can vary depending on the number and size of your brushes. Generally, it takes approximately 5 to 10 seconds per brush for a thorough clean. So, for a set of 10 brushes, you can expect the entire cleaning process to take around 1 to 2 minutes.
Can I use this cleaner to clean my makeup blending sponge?
Absolutely! Our electric brush cleaner is versatile and can effectively clean both makeup brushes and blending sponges. It's designed to ensure a thorough and hygienic cleaning process for all your makeup applicators, leaving them clean and ready for flawless makeup application.