Baked Potato Microwave Baking Bag
RELIABLE MATERIAL QUALITY
When we have not found the baking potato bag, it often takes us a lot of time to cook potatoes, whether it is cooking in a pot or cooking in an oven. When we find this bag, it can effectively shorten the time to make delicious food.
Potato baking bag cook all types of potatoes, and it can also cook corn on the cob, bread, tortillas and more.
MyLifeUNIT potato baking bag is made of polyester fabric and fiber, which is reusable and washable. Please note that it cannot used in a conventional oven.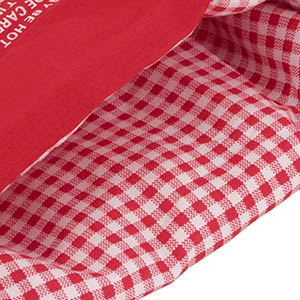 EASY TO HOLD POTATOES OR OTHER FOOD
Measures 245 mm x 205 mm (10 inch × 8 inch). You can cook a few potatoes at the same time. It takes about 5-6 minutes for big potatoes and 4-5 minutes for small potatoes. The cooked potatoes will not paste or dry, you can fully enjoy the potato with sour cream, potato salad, and marshmallow yams.
There is a Humanized design on the side of the bag, which allows you to hang it on the wall after washing it.
Easy to use and convenient to wash, it is a useful cooking helper in your kitchen.