The multifunctional laptop sleeve that doubles as a laptop stand addresses the ergonomic challenges that arise from prolonged laptop use.
Ergonomic Versatility
By seamlessly transforming into a laptop stand, the sleeve offers the ability to elevate your laptop screen to a more comfortable eye level, promoting better posture and reducing strain on the neck and shoulders.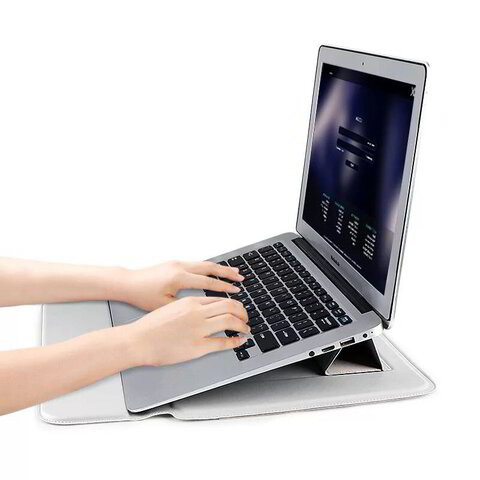 Create a Dedicated Workspace Anywhere

This adaptability to various environments ensures that users can work, study, or watch content comfortably, without compromising on posture or comfort.
How it helps you
Space-Saving Convenience
Eliminates the need to carry separate accessories. Protect your laptop while on the move and instantly transform the laptop sleeve into a stand when you need to work or watch content.
Ergonomic Comfort
The laptop stand function elevates the laptop's screen to a more comfortable eye level, reducing strain on the neck and promoting better posture.
Versatility in Any Setting
With the ability to switch between a sleeve and a stand, users can create a comfortable workspace wherever they are.